Emergency Games Kit
113 games in one pocket
Wednesday the 24th of August 2016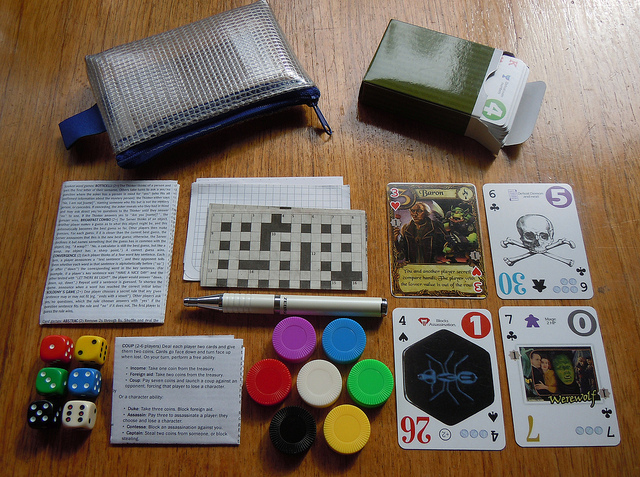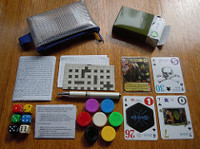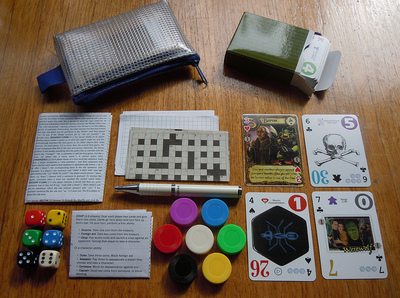 The Emergency Games Kit v4.0, from 2015
I've been carrying this around for a few years now: a collection of game components that's small enough to carry in any bag or pocket, and which unpacks into a decent number of card and dice games. It's inspired by the huge plastic toolboxes of the Seattle Cosmic emergency games kits, which I admired but never really understood the "emergency" aspect of, until I realised that everyone involved presumably had a car.
This kit began in 2013 as dice, plastic poker chips and a half-sized deck of regular playing cards. In 2014, the deck was replaced with a custom-printed one which included added corner numbers (0-5 in six "circle" suits, and numbers 1 through 35, which is enough to play a lot of things) and scanned-in chunks from games I already owned. It looks a bit baroque, but you quickly tune out the parts of the cards that you don't need for whatever game you're playing.
As of July 2020 the kit stands at 30 interesting games playable with the card deck and/or poker chips, and 83 in the Freeze-Dried Games Pack (a mixed bag of 100-word rulesets for card, dice, paper and word games that I've been compiling on a single sheet of paper), for a total of 113 games.
I've since published a cut-down CC-licenced version of the card deck as The Skeleton Deck.
Version 4.2
Full contents:
A cheap 5" x 3" Tuff Bag pencil case.
A one-off 2" x 2.5" (half-sized) mini deck of cards, customised with game art, icons and corner numbers.
36 stackable mini poker chips (five each of seven colours and one extra brown one) from Koplow Games.
Six 12mm dice, the colours matching six of the chips (six being enough to play Farkle; the white die has some red dots to double as a Cinq-O hi/lo die).
A few sheets of squared paper for pen-and-paper grid games.
Some scoring sheets for Qwinto.
A couple of blank crossword grids for Lynx.
A two-sides-of-A4 PDF printout of the rules for 83 simple paper/card/dice games from the Freeze-Dried Games Pack.
A slip of rule reminders for the games in the card deck.
A Zebra Expandz ballpoint pen.
A bidding reference card for The Bottle Imp.
One black and one white plastic pawn. (not pictured)
Two small pre-printed score sheets for Yahtzee.
It all fits inside the pencil case, the chips being bound with two rubber bands in a single stack.
List of games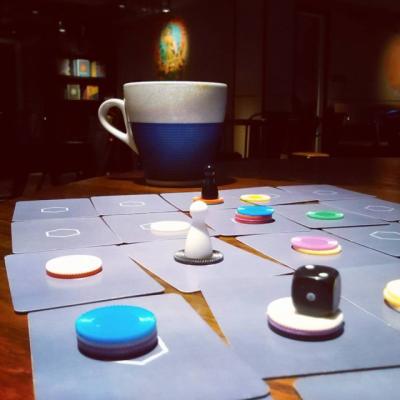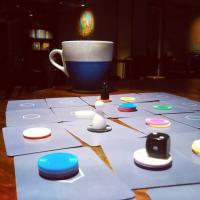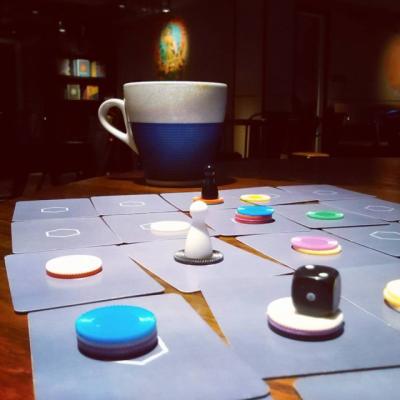 An emergency game of Santorini
Games in and around the card deck:
Babylon (poker chips)
Backgammon (dice, poker chips; "warm" colours vs "cold")
The Bottle Imp (coloured 1-35 corner values, coin icons, pawn)
Bunte Runde (circle suits, poker chips, pawn)
Córdoba (standard deck)
Coup (icons; Ambassador effect is slightly strengthened from cards being distinguishable)
Dead Drop (circle suits)
En Garde (circle suits, pawns)
Get Bit (standard deck, dice)
two-player Haggis (scoring stars on standard deck odd/face cards)
Heimlich & Co (corner values, meeple icons, poker chips, dice)
slightly cut-down Hey, That's My Fish! (standard deck played in a brick pattern, poker chips)
Hive (tile images, again played in a brick pattern)
In a Grove (2-8 corner values, joker, black and white pawns, poker chips)
Incan Gold (1-17 corner values with some tweaks for duplicates, other cards for hazards and artifacts, poker chips)
James Rizzi (standard deck)
Khmer (circle suits)
Kobayakawa (1-15 corner values, poker chips)
Llama (circle suits, non-circle cards, poker chips)
Loco (circle suits, poker chips in matching colours)
Love Letter (card scans)
No Thanks (3-35 corner values, poker chips)
Pecking Order (standard deck, poker chips to mark special cards)
Pico 2 (4-16 corner values)
R (corner values and icons)
Santorini (cards for board, chips, one pawn and die per player)
Skull (skull icons; although with playing cards it isn't quite Skull as the "rose" cards are distinguishable)
Werewolf (werewolf/seer/­doctor/­vigilante/­hunter/­mayor images on cards)
Welcome to the Dungeon (card scans, icons)
Westeros Intrigue (poker cards, chips)
The kit also includes the rules for 83 small games from the Freeze-Dried Games Pack (Yahtzee, Boggle, Lynx, etc), all playable with dice, standard poker cards and/or a pen and paper. And the deck of cards can obviously be used to play any card game that takes a single poker deck.